Specification
Model

Spec

Device type

TPT-B4HCR1515A

20V

±15A

Portable

TPT-B30HCR2020A

30V

±20A

Portable

TPT-B30HCR3030A

30V

±30A

Portable

TPT-B60HCR1515A

60V

±15A

Portable

● Out-of-Phase Load Transfer <15ms,In-Phase Load Transfer without Delay
Through precision control of HW & FW completely independent from each other, out-of-phase (charging and discharging) switch delay time is less than 15ms, and in-phase (charging to charging, discharging to discharging) switch without time delay. The tester unit uses exclusive patented load switch technology to achieve out-of-phase high speed switch characteristic and ultra high useful lifetime. No lifetime limitation due to mechanical switch.

● Screen + Button  No Computer Connection Required
OLED panel screen with operation buttons satisfies user's real-time test demands quickly and easily and displays complete test information.
Computer connection is not required during the execution process to control the test process or capture data. Test personnel can use portable disk to access test data via USB socket provided on the panel, or users can access test data stored via Ethernet or WiFi connection.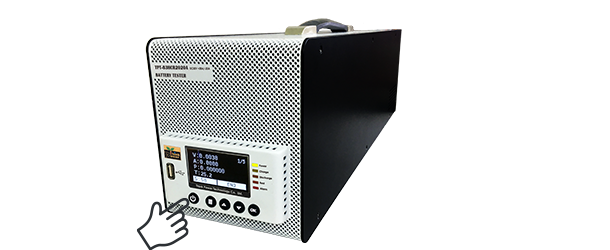 ● Full Range - High Speed and Precise Measurement
Full range interval recording period (0.1S ~ 99H59M59.9S), measurement precision of ± 0.02%. Measurement precision maintained under high speed recording.
Measurement module without SAR high-speed ADC design to prevent the sacrifice of measurement precision for measurement speed that may cause capacity calculation error during recording and measurement under high speed.The measurement module of this Tester uses △-Σ high-speed ADC, at measurement speed of 12ms and with outstanding measurement precision. No need to worry about milliampere-hour and watt-hour capacity calculation error.
● Continuous Recording of 20KK Entries of Complete Data
During continuous testing process, do you worry about insufficient memory for recording vast amount of test data?
Do you worry about the stop of test due to data overflow caused by crash of the computer connected?
● 0.1 Sec Step Timing and ChangeContinuous Recording of 20KK Entries of Complete Data
0.1Sec ~ 999H59M59.9S provided for step execution time.
Regardless whether it is a loop or any step during the test, it allows the 0.1Sec timing change and measurement recording. In addition, it also provides the output and measurement precision of ±0.02%. No need to consider the number of usage times of step under high-speed sequence switch or worry about the record entry limitation.
● High-Speed Calculation, Constant Power Output ± 0.01%
±0.01% Remarkable high-precision constant power discharging capability, satisfying all of your power testing needs.
High-precision measurement module + High-precision output control + High-speed floating point computation (9th decimal place), achieving new standard for power discharge in the industry.
● 1000 Sets of Testing Procedures, 10,000 Steps Available, Double Loop
10,000 steps of setting are provided for each set of testing procedure, in conjunction with double loop function. It is able to execute a maximum of 10,000*65535*65535 steps, satisfying all working condition simulation needs completely.
Tester provides 1,000 sets of testing procedures. User can use SW or APP to transfer testing procedure edited completely to the Tester for storage and for the panel operation and use.
 
● Capacitor-Free Design, 100% Battery Module Compatibility Test
For battery module equipped with protection board design, it often requires the ON/OFF to output MOSFET during testing process, particularly for charging after stationary, or discharging after stationary, or instant Turn ON MOSFET after sleep of battery module. If the tester output circuit is equipped with the output capacitor design, it often causes OCP instant error action of the battery module, leading to trouble of protection activation or test failure of the battery module.
Tester with capacitor-free design for output circuit. During the testing process of the battery module and the Tester, regardless of the time of Turn ON of the battery module MOSFET, there is no instant counter current capable of charging the output capacitor. Consequently, there is no aforementioned test failure due to OCP error action.
● POWER, LOAD Manual Operation
Capable of satisfying all charging/discharging manual test operational demands of engineers during battery module development process. ThinkEasyGO App provides fast, easy and complete single-step charging and discharging execution. Complicated program editing is not required, and charging and discharging output test can be performed readily.
In addition to display of complete test information on the main screen, the Tester also records output data simultaneously to facilitate engineers to track and backtrack data for use.
 
● WiFi, Ethernet High-Speed Data Transmission


The connection methods of computer network port, WiFi area network, connection through hub or router are provided, and user can choose the suitable method to achieve fast and easy connection to the machine. 20KK entries of complete recording of data can be achieved through high-speed network connection, and it only requires 2 minutes and 30 seconds to complete the transmission. OLED panel displays IP connection, allowing user to search host machine quickly via IP with easy connection access.
TCP/IP Communication Protocol Available, Self-Develop Testing Application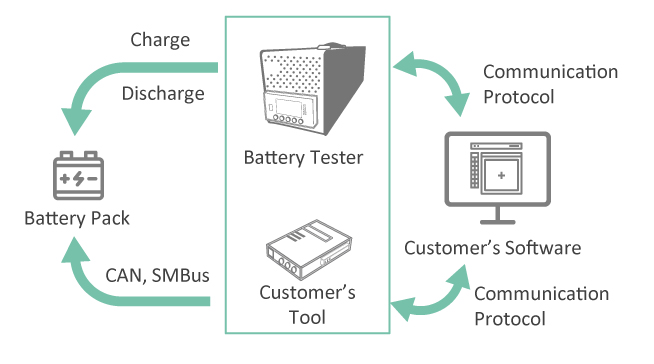 ● Provide simple and easy TCP/IP communication protocol commands.
User can self-develop process control software for computers easily and quickly through TCP/IP communication protocol commands, or self-develop iOS, Android APP process control software for tablets and mobile phones.
According to the needs of different fields and applications of production lines, test stations, domestic/foreign repair centers, distributors or portable carrying, user can establish equipment connection and control easily and quickly with desktop computer, notebook computer, tablet computer of mobile phone through TCP/IP communication protocol commands. Through personal smartphone, regardless of any place and time, the Tester allows you to perform battery module function test and inspection easily and swiftly.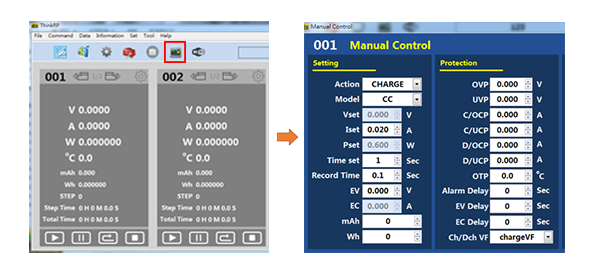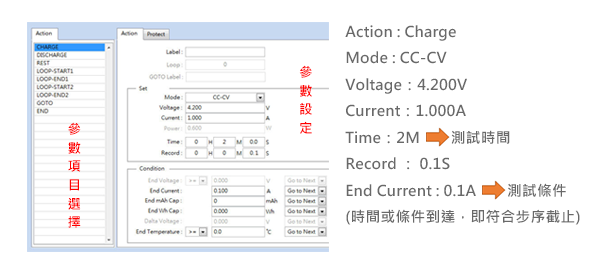 ThinkRP APP 

Operation Interface