Cells、Battery Packs Core Pack /Hard Pack/ Protection/Capacity/periodic electrical Testing Equipment
(SA-FA)TPT-PT4SG0520A
IDRx

:


3 set resistance measurement

,

3 set resistance range switch
VINx

:


2 set voltage measurement

,

0~20V
ACIR

:


Choose external ACIR, Tdm provide multi-channel use
Charge / Discharge Inspection

:


Measurement and comparison of charge / discharge current & voltage
Over- current protection check

:


Measurement and comparison of over-current protection time
Short - circuit protection check

:


Measurement and comparison of Short-circuit current protection time
DIO

:


Input/Output x 3
Communication test

:


SMBus

、

I2C

、

HDQ
Gauge Test

:


SBS

、

Data Flash reading/writing

,

compared

。

Single- machine Design

:


easy to expand& portable
Single-machine Dimension

:


96W x 153H x 333D (mm)
Convenience Communication

:


RS485

、

USB
High Precision

:




±

0.05%

,

one year free adjust guarantee
Long Life

:


> 1012

,

without mechanical component
Applicable Products

:


1~4 Cell Battery Pack

、

NB Pack

、

Power Bank

、

PCM Test
Test Software

:

ThinkPTMv1

;

for NB Gas Gauge
    ThinkPTMv1

;

for Protection of electricity
    ThinkPTMv3

;

for Power Bank protection
    ThinkLab

;

for Electrical characteristics
Product  Features
T

PT-PT4SG Series
: 
Single machine portable design

,

3

–

in -one function. Itself executable

:

Semi-finished / finished product testing, protection of electrical testing, the capacity of the life cycle test.
Single- machine Portable Design
,
The users can be multiple devices embedded in the rack, integrated into multi-channel test equipment in anywhere. Or a single device placed anywhere to lay out of the production line conveniently. A carry-on equipment for test requirements in travel. RS485 + USB  for any system are suitable

。
Electrical characteristics test

:
Charge and discharge inspection, over-current protection (COCP / DOCP) time testing & inspection, short-circuit current protection (SCP) time test & inspection, ACIR check, IDR check, complete test content, 100% guarantee battery pack quality.
Hardware output

:

20V+5A-20A
COCP/DOCP/SCP

:

10us ~ 5000us

;

1ms ~ 6553ms
Gas Gauge test

:
Communication interface include

:

SMBus

、

I2C

、

HDQ(optional)

。

Can be testing

、

comparison and reading & writing

,

SBS

、

Data Flash

。
Cell

、

Pack characteristics Testing

:
20V+5A-5A Long time capacity

、

Life cycle

,

for quality control or R & D product development, validation testing
Customized software

:
We provide the original multi-functional Standard ,  ThinkPTMv1

、

ThinkPTMv3

、

ThinkLab .
Customized software are available.
TPT-PT4SG0520A Product  Specifications
TPT-PT4SG0520A Product  Dimension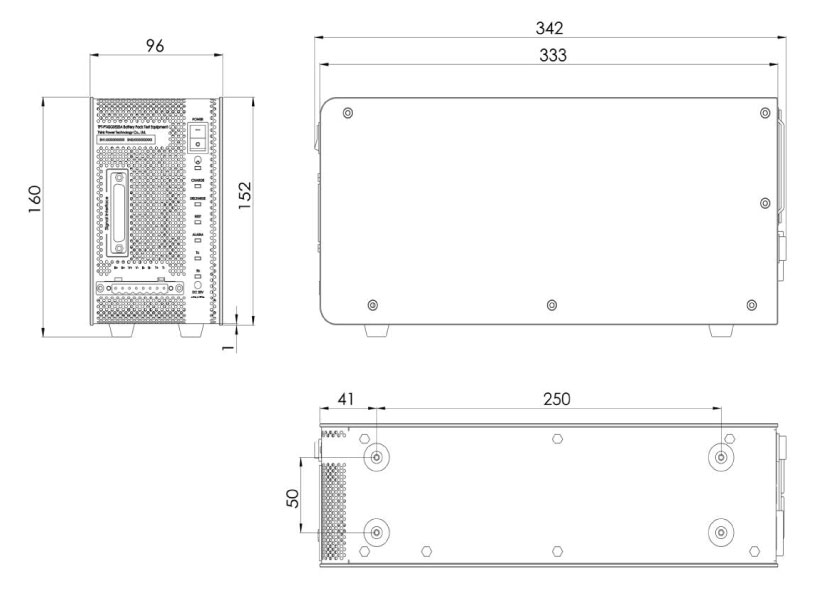 Warranty

:
   One year warranty but personal behavior is exception